Carp fishing is not the cheapest past time. It seem like you can rarely come out from the local tackle shop these days without having spent less than 50 quid on bait and a few bits of terminal tackle.
That said, if you want to have a go carp fishing you can buy a good quality cheap carp set up. Plus you don't have to also fish with boilies which can seem quite expensive, there are loads of alternatives that you can pick up for a fraction of the cost at your local supermarket such as sweetcorn, chickpeas and salami just to name a few.
We decided to do some research to see if it is possible to go carp fishing on a budget and buy the essential bits of kit for less than £300.
Are the ultra cheap brand new 3 rod set ups really worth it?
Now £300 may seem quite expensive still and actually if you enter into Google 'cheap carp set up' for around £170 you can get a brand new 3 rod set up with bivvy, bite alarms etc.
However, having looked at these we hadn't heard of many of the makes and whilst the quality may be fine, our assumption is that if you wanted to continue carp fishing you would soon want to upgrade.
Carp fishing on a budget –  used fishing kit for a fraction of the price
With that in mind we started researching how much it costs to buy used tackle from sites such as eBay and Gumtree. Rods and reels if well looked after and are good quality to start with, will last years and there's loads of tackle sold second hand online, much of which is in very good condition and looks hardly used.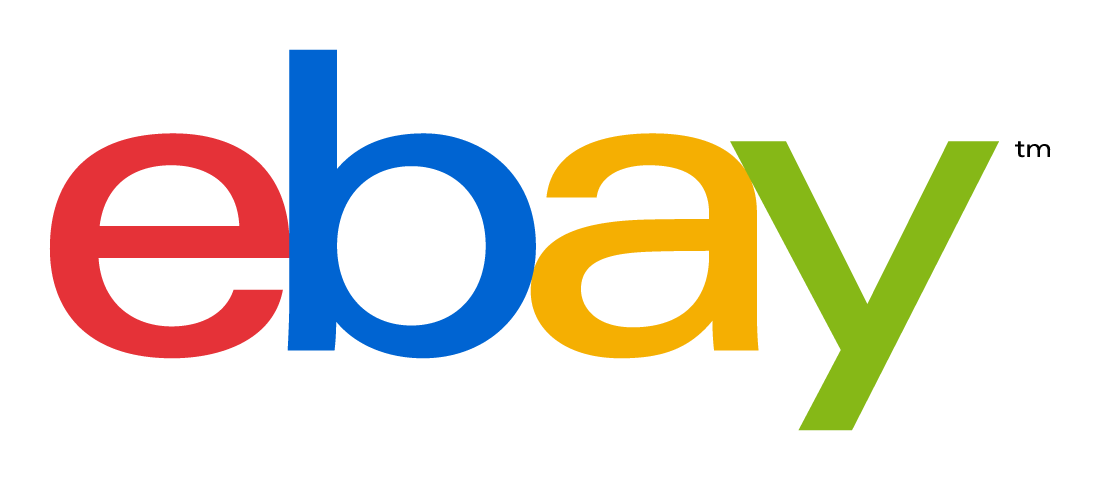 For a beginner we decided to go for a 2 rod set up, 2 bite alarms and bobbins, bank sticks and buzz bars, 2 carp reels that will have a bit a of range if needed, a landing net, an unhooking mat, a chair and a rod holdall.
The obvious items we have not opted to include are a marker rod, which to most of us is an essential piece of kit, but this set up is aimed at beginners who are likely to be fishing highly stocked easy venues where feature finding is less critical. The other big item I have excluded is a bivvy or shelter simply because it would have meant it would be at the expense of a poor quality overall set up which we wanted to avoid. Plus if you are starting out it's more likely you will be fishing day sessions.
This set up is aimed to comfortably fit the needs of an angler new to carp fishing for at least a couple of seasons. We have also taken the view that when you are new to carp fishing, fishing 3 rods is too many.
Cheap Carp Set Up – The Breakdown
The Rods – Diawa Power Mesh X 2lb 1/4 TC £80
The rods we opted for are a pair of used Diawa Power Mesh X 2lb 1/4 Test Curve which are £80 on eBay. Now, these are old rods but they have been built to last and having previously owned a pair for over 10 years I can vouch for their quality which is also indicated by their price for a 15 year old rod. Now the test curve is fairly light for today's standards but for a beginner it's unlikely you will be fishing extreme ranges. These rods have a lovely through action for playing fish at close range and for fishing distances up to 60 yards are absolutely ideal.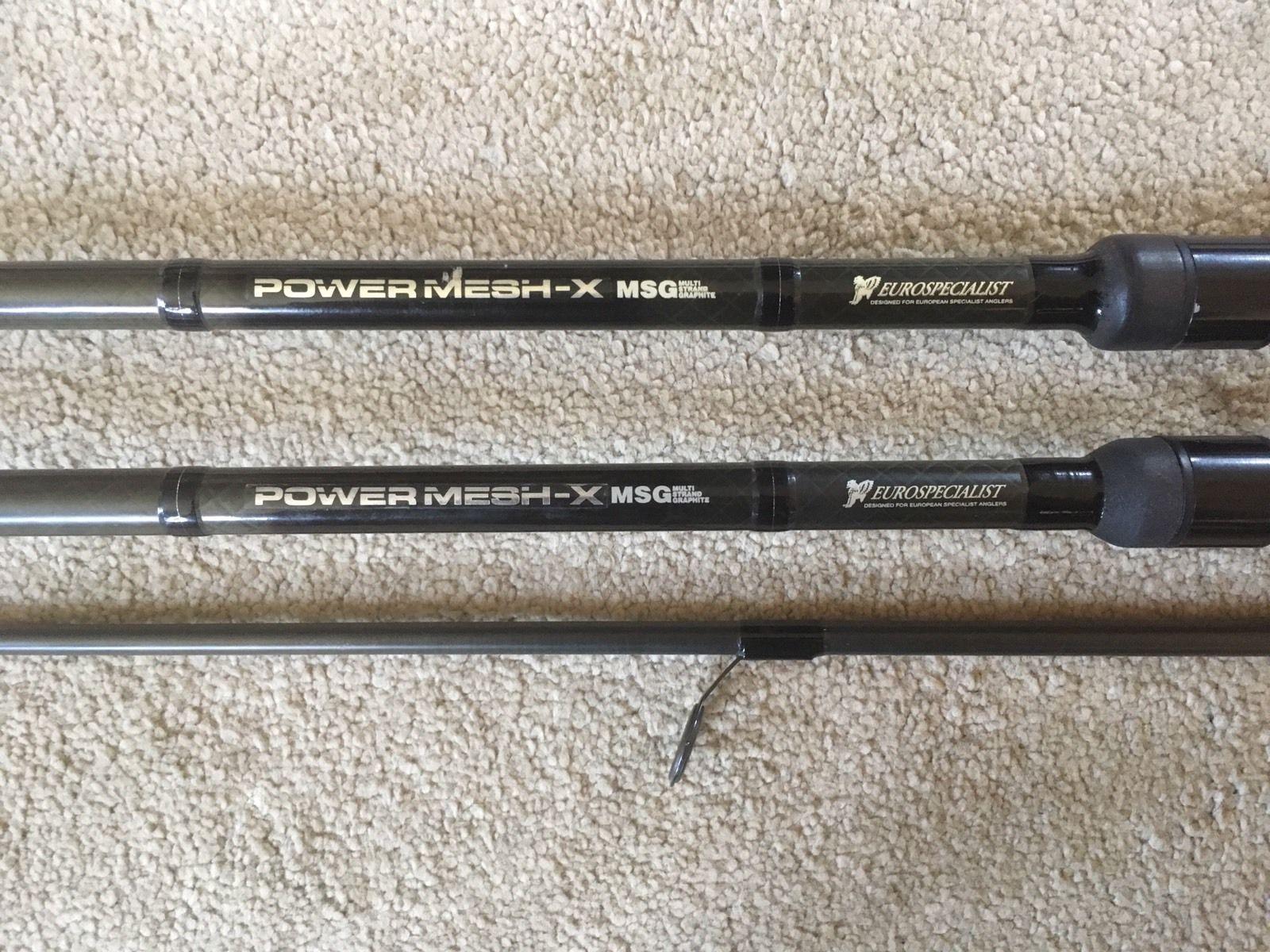 The Reels – Wychwood Exorcist Big Pit Reels £80
The reels we've found are 2 used Wychwood Exorcist Big Pit Reels with a free spin drag. Now for a beginner, big pit reels are not essential as you are unlikely to be fishing long range. However, we came across these reels also on eBay for £80 which is great value. The photos below are of a new pair reels as the photo of the used pair was of poor quality. There are much cheaper reels available however, these reels are very good quality and even if you upgraded the rods for longer range fishing, these reels have deep spools and are built for fishing short and long range so would do the job easily.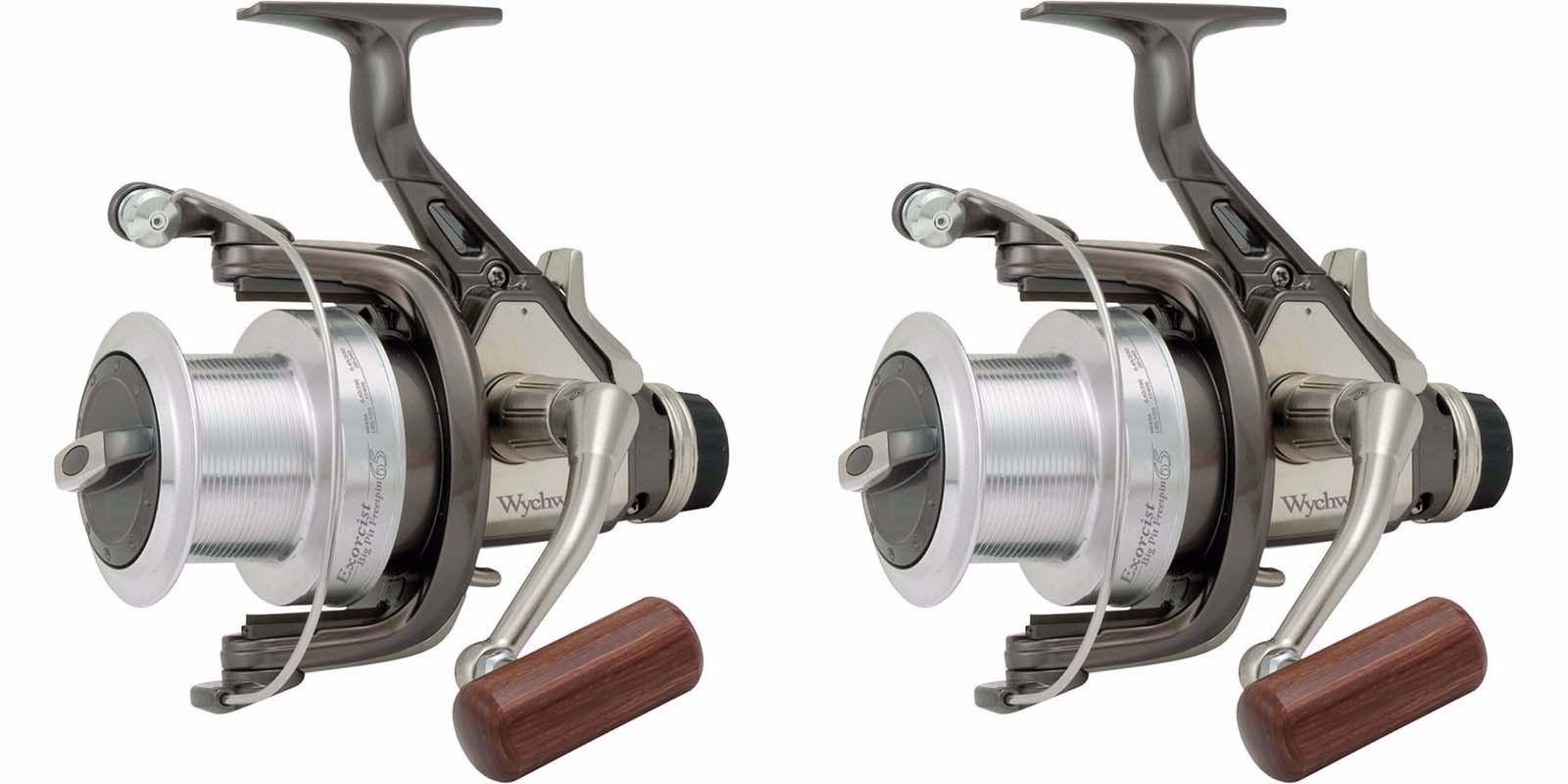 Fox Micron Bite Alarms – £30
We've chosen 2 Fox Micron bite alarms with hard cases for £30. Fox have made bite alarms for years and they are very good quality, extremely reliable and will work in all weather conditions. These alarms only have volume control but do exactly what's needed for a someone just getting into carp fishing. They look pretty good too!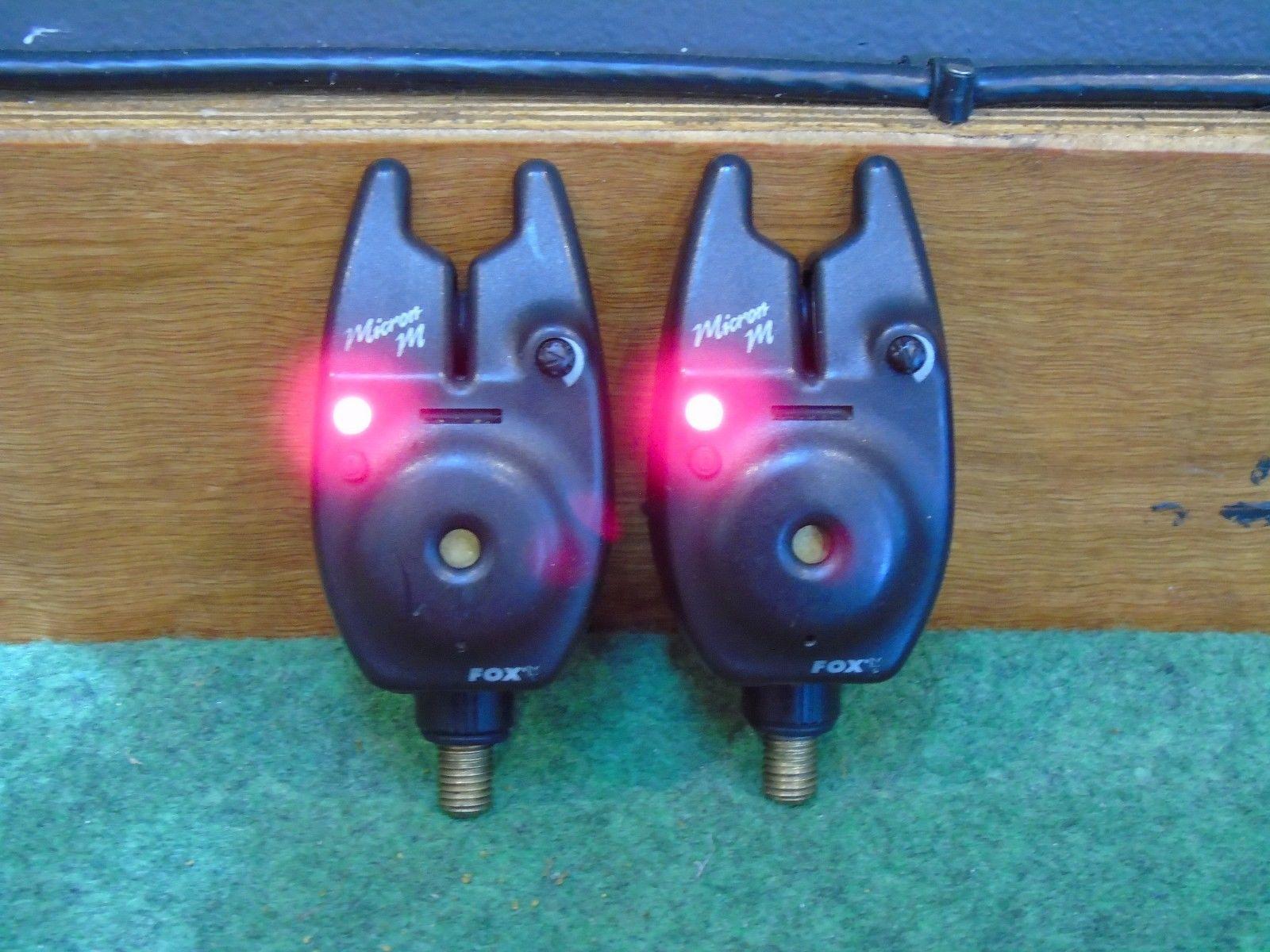 Buzz Bars, Butt Rests and Bank Sticks – £20
T0 go with the alarms we've found a set of brand new black stainless steel buzz bars, butt rests and bank sticks.  We're not that familiar with the make but they are stainless steel so we think it's worth a gamble as it's quality material and should last the duration.

Wychwood Slug Bobbins – £7 each
Brand new Wychwood slug bobbins are a brilliant bit of kit and used by many experienced carp anglers. At only £7 each then we think we can treat ourselves to 2 of these to complete the rod set up.

Korum Specimen 42″ Landing Net – £25
On Gumtree we have found a used 42inch landing net with carbon pole for just £25, the photo is of a new net as the image quality was poor. The net is in excellent condition, it's got one small tear which can easily be fixed with a large needle from your mum's sowing basket and some 12lb plus fishing line!

Large Unhooking Mat – £10
Carp safety is critical and therefore a decent unhooking mat is essential even if you are a beginner. This one is for just £10 on Tackle Trader. It's in good condition and absolutely ideal and will last more than a few seasons and it easily capable of holding fish to 40lbs.

Nash Chair – £25
Being comfortable on the bank is important and this Nash chair is on eBay for just £25 which looks to be in excellent condition.

NGT Rod Holdall – £14
This rod holdall by NGT holds 2 carp rods and reels and is only £14 brand new. Whilst this may seem cheap we have seen some of their kit and it is of good quality. This is ideal for keeping your rods and net in and when you do need to get a larger holdall can still be kept for sessions where you are taking minimum equipment.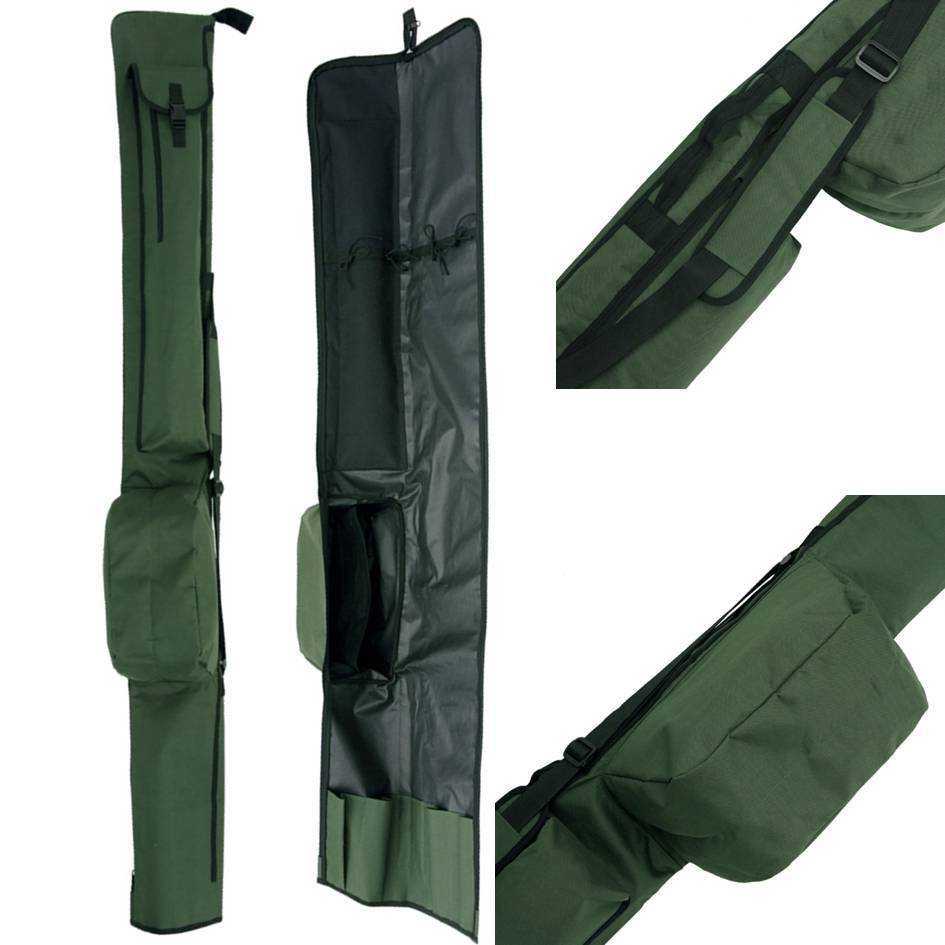 Conclusion
That brings us to a total of £298 so just under the £300. The bulk of the budget has been spent on the rods and reels but the other items are all very good quality and will last you many seasons.
So don't be put off by the price of tackle, you don't have to break the bank it is possible to get a good quality cheap carp set up. But also be careful of very cheap tackle as you may replace it sooner than you planned which could be more expensive in the long run. If you shop around on sites like eBay and Gumtree can still get some very good quality kit whether