Angler: Andrew Patterson
Sponsors: Dream Carp Holidays
UK PB: 37lb 6oz Mirror
Introduction
I was lucky enough to grow up in Ruislip which is only a 15 minute drive away from some of the most historic carp lakes in country such as Savay, Harefield and Farlows to name a few.
I had been keen angler since a young age, fishing at every opportunity from weekends to school holidays. My fishing starting off back in the 90s fishing the local river Colne and some of the lakes around Harefield and towards Heathrow which at the time were run by Uxbridge Rovers Angling Society and Boyer Leisure.
It was probably around the age of 15 that I really got the carp bug and even today at 34, I still get excited and love the anticipation leading up to a carp fishing trip.
The Lakes
For the second time in 10 years I joined a particular club in the Colne Valley that has 4 or 5 decent pits on the ticket. I won't name the club as from experience and talking to other anglers the club can be a bit funny about publicity so for now it will remain anonymous. The lakes are former gravel pits and on average around 10 feet deep with good marginal cover from overhanging trees and reeds. They vary in size and difficulty, but all except one seemed to have a good head of carp and I was finding that with right tactics I could often get 4 to 5 fish in a 12 or 24 hour session.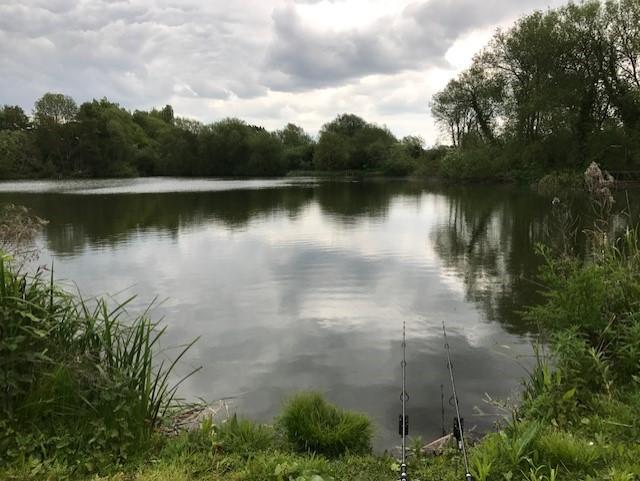 One lake however, which is a bit more of a trek from the car park seemed to generally have little known about it. It was probably the largest lake at around 8 acres so still by no means big. However, carp anglers, generally being lazy by nature, had meant that this lake had pretty much become neglected and unlike the other lakes with comfortable dug out swims with nice bark chipping this lake was wild and more overgrown.
The stocking levels were relatively unknown, from the research I had done the lake used to be part of a 40 acre lake which was once a trout fishery. However, the lake had been split into two with a causeway built leaving one lake of 32 acres which is now a fairly well known carp syndicate water, holding carp to over 40lbs, and the remaining 8 acres being part of the fishing club I had joined.
Whilst it may not be everyone cup of tea, the air of mystery surrounding the lake coupled with the fact it was rarely fished and nicely overgrown made it exactly the type of lake got me hooked on carp fishing all those years ago.
A Low Stocked Carp Lake
I did a few short sessions but I barely saw another angler on the lake. Those that I did speak to at the lake, or on other lakes run by the club, did not seem to know exactly how big the carp in the lake went to. I did learn that there were also some original carp that remained in the lake, prior to the club adding a few additional fish many years ago.
Two sides of the lake were fishable, although as the lake was not particularly well cared for, casting was tricky due to lots of overhead trees. There was an abundance of marginal snags due to fallen in tree branches that had not been removed. Of the two banks of the lake that were not fishable, one had a series of collapsed willow trees covering a good 20 foot of water out from the bank. Along this area I spotted a few carp cruising under the willows.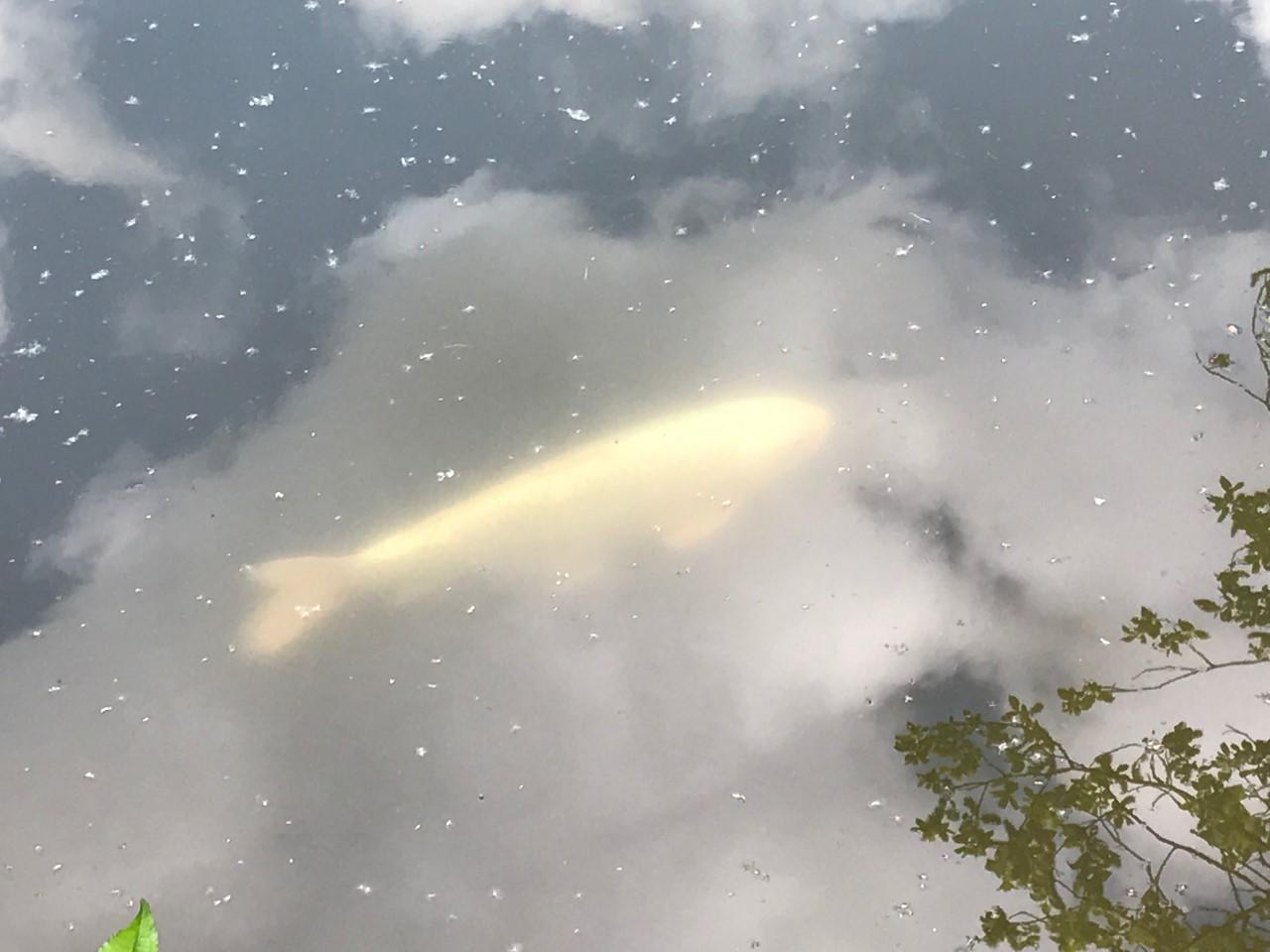 The other unfishable bank had 3 fallen trees that were all half submerged under water. As I crept round this side of the lake I came across a group of about 10 fish in a bay area in front of one of the sunken trees. Most the fish looked to be doubles. There was a ghost carp (photo abobve) of probably around 15lbs that proved to be a good marker over the next few times I visited as it was often one of the first fish I would spot due to it's almost white colour.
I spotted two larger fish, a very long common which looked upper 20s to low 30s and very broad mirror with a distinctive white spot on its nose that looked a decent 30.
After a few short sessions trying surface baits and bottom baits to no avail other a few bream I had estimated there to be somewhere between 20 and 30 fish present. Which for a lake of 8 acres in size meaning, 2 to 3 fish per acre I would term this be a fairly low stocked carp lake. Usually after doing a few laps of the lake I could find a group of 10 to 12 fish (often spotting the ghost carp first), and there also seems to be the odd few fish very deep in the back of the snags that were pretty much inaccessible.
The Session
I got down to the lake at 10am on Saturday and as per usual I had the lake to myself. There was a westerly wind blowing which created a chop on the water and as the weather was overcast it made spotting fish quite tricky. I spotted the ghost carp in one of the snags not far from the bay area from where I had often seen the group of carp. However, the wind was blowing into the opposite end of the lake and I did not spot any other fish in the area. My gut feel was that the carp would have followed the wind and after contemplating where to set up an scanning the water for well over 2 hours, I saw two fish show at the other end of the lake in quick succession. My mind was made up and I quickly loaded the barrow back up with my gear and made my way round the other side.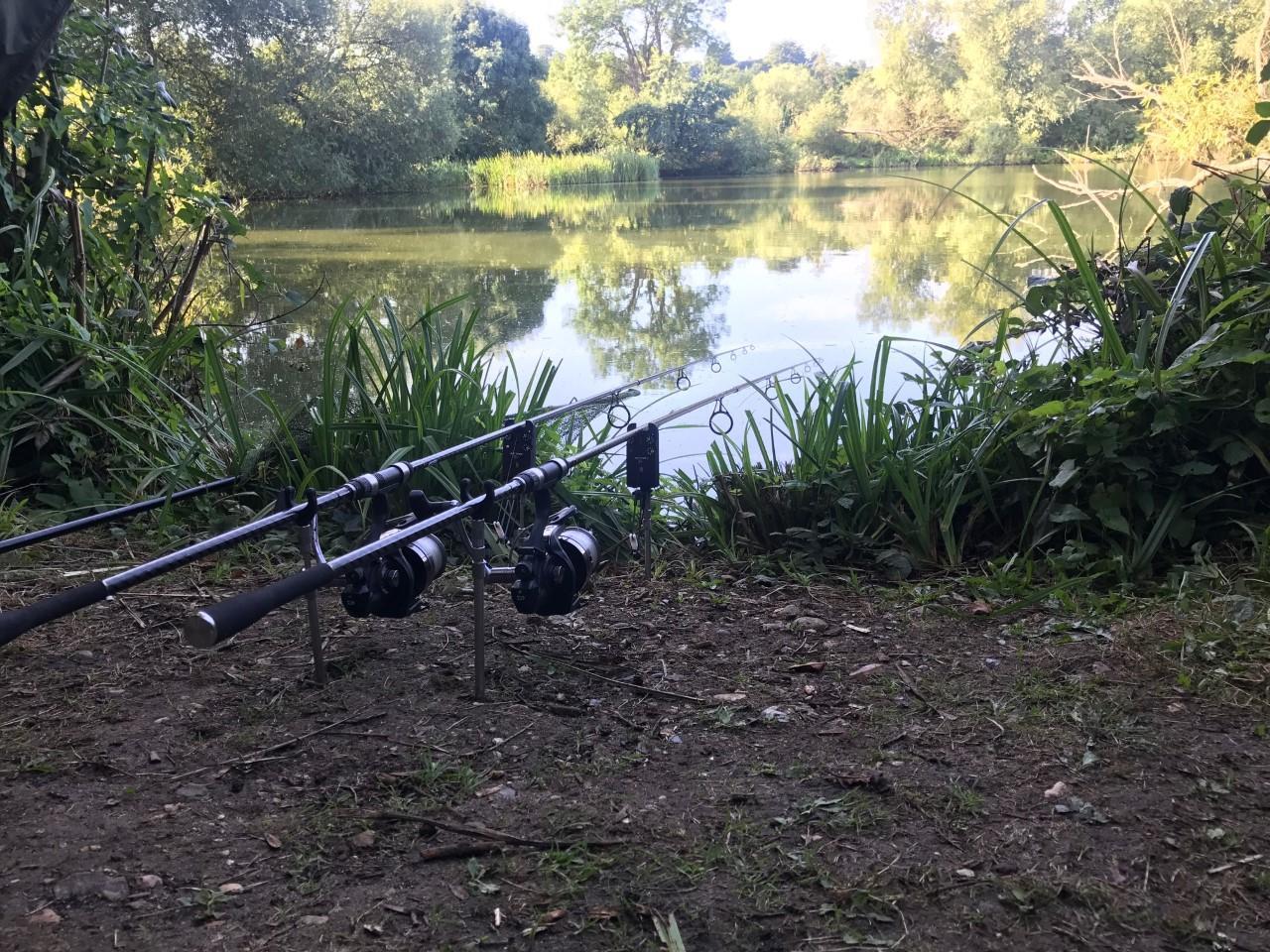 I was fishing almost from the corner of the lake. The bank to my left being unfishable due to the mass of collapsed willow trees and to my right there was a large fallen tree about 20 foot into the water. My plan was to find a couple of spots in open water which were hopefully far enough away from the snags to have a good chance of landing a fish. I knew I wouldn't be able to give the fish any line and would need to be on the rod quickly if I got a take.
I knew from the sessions on the lake previously that there were quite a few bream and I had considered whether using a boilie only approach to bait up may give me a better chance of hooking a carp. However, on the other lakes I had fished run by the club I had done well fishing boilies over hemp and particle and my plan was to hopefully draw a group of carp over the baited area and keep them in the spot by having some finer pieces of food as well as boilies. I decided that if I used a 20mm hook bait then it should be large enough to hopefully prevent a take by a bream and hopefully lay intact for when the carp moved over the bait.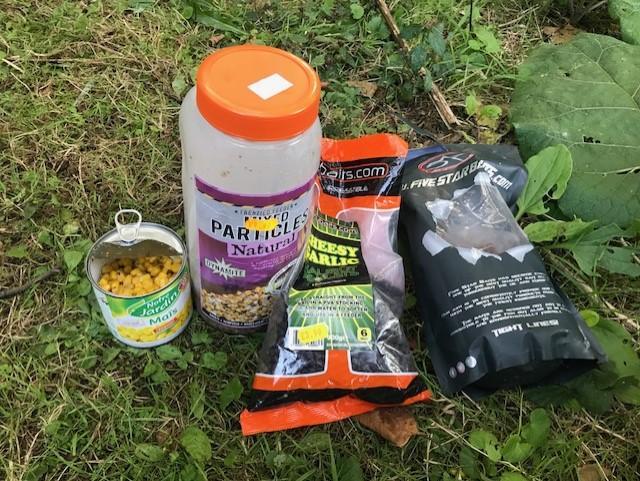 After a bit of plumbing around I found a gravel bar about 30 foot out. At the front of the bar the depth was around 3 foot and at the back of the bar it dropped to 5 foot. As the temperature was due to drop by 5 degrees over night down to 12 degrees, I opted to fish both rods on the back of the bar.
I spombed out a mixture of 16mm boilies, hemp, groats, pellets and corn. On both rods I fished 20mm boilies straight out the packet tipped with plastic corn.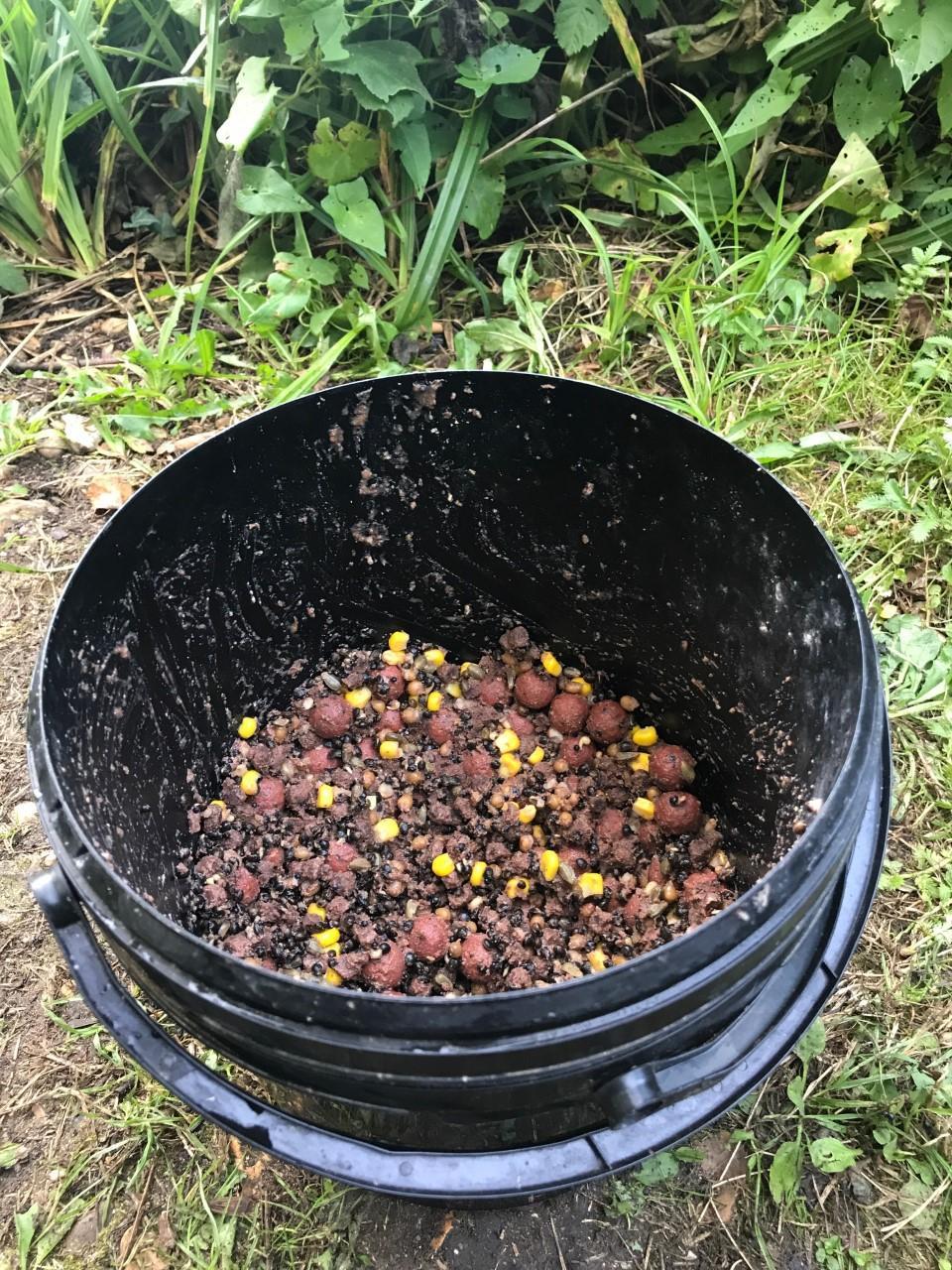 Rigs were size 6 Korda Wide Gape hooks, knotless knot with a Korda Kicker pushed over the eye of the hook to create a kick and coated braid stripped back for the hair. 3 and half ounce leads fished drop-off style and about 3 foot of leadcore leader. By the time the rods were out and bivvy set up it was early evening so I sat back, had a beer and watched the water.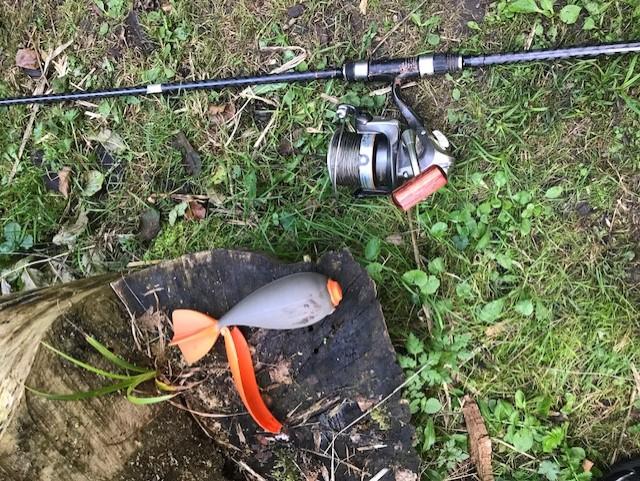 It didn't take long before I was getting regular beeps on the Delkims which I suspected were probably bream moving the lead or giving line bites as they fed over the area. Before I went to bed I turned the sensitivity on the alarms down so that I would only be woken but a proper take.
Just as I was falling asleep at 1.30am the left hand rod screamed into action. It was a savage take and I scrabbled out of the bivvy and ran for the rod. By the time I picked the rod on the fish was already almost under the sunken willows to my right hand side. There was no doubt it was a carp and I spun the drag tight an